This is your chance to develop your skills! The Impulse TR is the perfect 3-line trainer kite for anyone who wants to improve their flying skills before getting into any of the more extreme kite powered board sports. The Impulse TR is the perfect tool to introduce your kids, spouse, friends or family into the exciting world of traction kiting.
The design of the new Impulse TR has been further refined to improve handling, stability and overall flight characteristics. Furthermore we have added an extra size to accommodate the youngest flyers.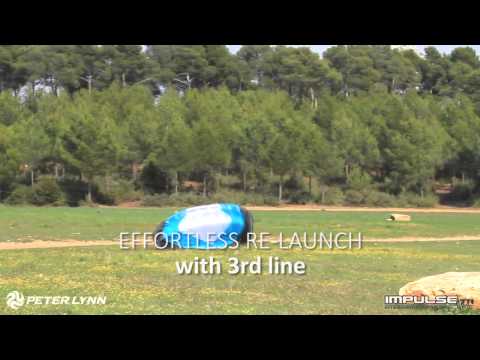 You don't need to have any kiting experience to fly the Peter Lynn Impulse TR. It is very stable and flies easily in light winds, allowing any kite flier at any level or age to have fun with it and feel confident flying it. Discover the kite talent inside you!
Characteristics
Ideal tool for schools and serious beginners
For an exciting day at the beach or in the park
For all ages and no experience needed
Superb control and good flying speed
Easy set-up with pre-attached lines
Easy handling, good power and stability
Effortless re-launch with 3rd line
Bomb-proof contruction for extra durability
Features
Pre-stretched, stitched Dyneema® bridle
Webbing reinforced air-intakes
Double stitched bridle points
Innovative cross-vents
Dirt channel & velcro dirt-outs
Extremely durable, high quality 40D Mirai ripstop nylon top & bottom skin and 70D Mirai ripstop nylon profiles